LIVING
TOWNSIDE
1, 2 Bedroom Residences
From Kshs 10.3M
For the makers and the dreamers, a new kind of artistry is taking up residence. Vibrant harmony and on-trend living come together to create Living Townside at Enaki, in a style reminiscent of an upscale town. Set along Enaki Walk, and just a stroll away from the Town Square, the 1-bed and 2-bed homes showcase industrial-style minimalism and sleek modern design. Enaki Walk, with its exciting labyrinth of resident facilities, is the intersection of life and leisure bringing residents the spirit of true urban living.
SEIZE THE MOMENT
Turn up the heat at the state of the art gymnasium then cool down in the crystal blue water of the pool. Work up a sweat at a Zumba workout at the Dance Studio then shoot a game of pool with friends at the Sports Lounge.
Enjoy the Little things
Life will be one big party as night falls. Open your doors to the bustling Enaki Walk where you can engage in friendly competition over a game of sport or have a laugh with friends in a streetscape setting. Complete your downtown experience enjoying a cold drink as you soak in the vibrant atmosphere.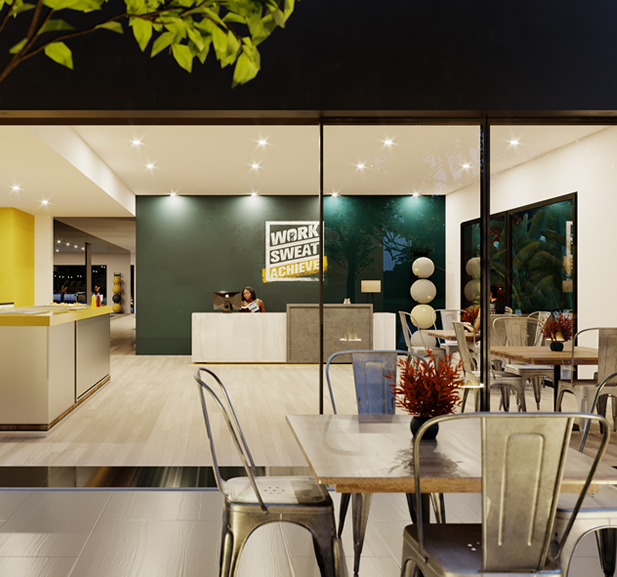 the difference is real
Take advantage of the co-working space at the Business Hub, with diverse break-out areas for brainstorms and workshops, or join the Enaki book club at the Reading Room. For evening downtime, get together with friends for a movie experience at the Screening Room.
Be anything but predictable
Light and texture is beautifully balanced to create a vibrant ambience, and the superior planning with intricate detailing shows a careful consideration of design and place. The on-trend but timeless choice of finishes with a bold modern edge blends effortlessly from spacious kitchens into the fluid living areas, creating naturally stylish living that forges a special affinity with the town setting outside.