RESIDENTIAL
RESORT
1, 2, 3 & 4 Bedroom Residences
From Kshs 10.3M
The residential resort at Enaki is an unrivalled collection of bespoke homes crowned by luxury penthouses above and superbly crafted duplexes below. A montage of function, flair and form, the residences bring to Enaki a soulful living experience in an unmatched town setting.
The residential resort sits on 9.6 acres, boasting 70% green and open spaces, and is adorned with a host of five-star resident facilities that bring holiday living home. With the Five Sense Botanical Garden at one end and the Town Square at the other, Enaki fuses the best elements of parkside living with the excitement and colour of urban life making for a truly chic, convenient and connected lifestyle.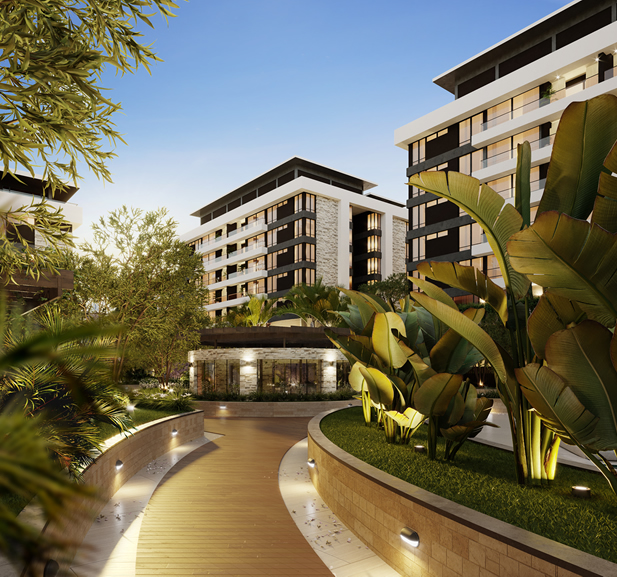 THE ART OF LIVING AND THE ART OF DESIGN UNITE
Reflecting the contours of the parkside landscapes, Enaki's graceful lines and simply framed geometry embrace the vibrant spaces within and alongside the buildings. The buildings timber-grained exterior detail is intended as a modern interpretation of the classic urban home, with the selective use of wood and stone, two luxuriously understated palettes.
The individual boutique buildings contain a limited collection of architecturally considered contemporary residences where timeless design and functional layouts deliver both enduring beauty and a practical sense of home.
Resident Life
The signature avenue of Enaki connects all aspects of the town, taking you from The Town Square to Living Townside, over the Enso Bridge to Living Parkside and then opening to Five Senses Botanical Garden
The retail and commercial precinct of Enaki, just a stroll away from Living Townside and a golf cart ride away from Living Parkside.
A modernized take on your own home office, perfect for individual or co-working experiences, business meetings and formal presentations
Learn More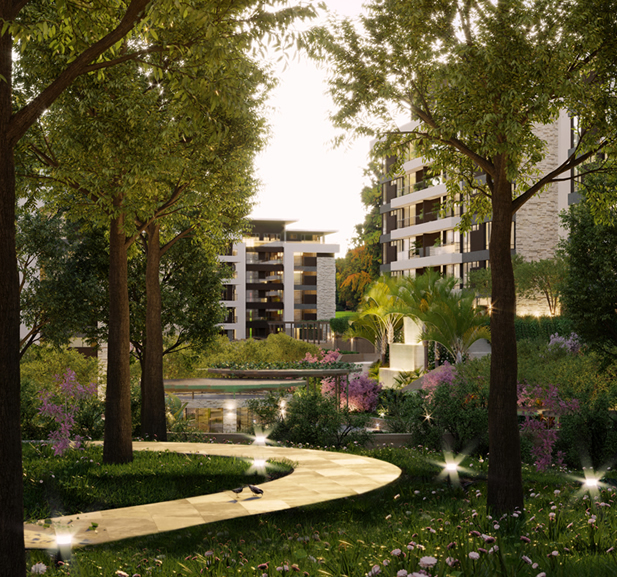 Residential Resort: Living Parkside
1, 2, 3 & 4 Bedroom Residences
From Kshs 12.4M
Heritage entwined with nature comes together in a modern twist to create Living Parkside at Enaki. Inspired by a vision to create holiday-like living every day with a real sense of connection to the outside, the homes here range from studio-sized units to 4-bed residences, penthouses and duplexes.
Learn More
Residential Resort: Living Townside
1, 2 Bedroom Residences
From Kshs 10.3M
For the makers and the dreamers, a new kind of artistry is taking up residence. Vibrant harmony and on-trend living come together to create Living Townside at Enaki, in a style reminiscent of an upscale town.
Learn More